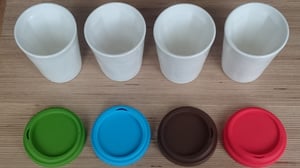 £

65.00
Therma is an insulated ceramic cup that will keep your drink warm for up to an hour, without tainting the flavor of the drink and remaining cool to the touch.

From a quick glance the cup looks like a take away coffee cup, but upon closer inspection you will discover it has a unique octagonal internal design.
Made in Stoke on Trent
8oz/230ml the same size of a small take away coffee.
Each Therma cup comes with its own silicone lid
Dishwasher safe